MAGIC Movers ATL is your 1 STOP SHOP !
Your professional moving specialists with 9+ years of experience.
We are servicing the greater Atlanta area as well as surrounding counties and beyond!
MAGIC Movers ATL is your 1 STOP SHOP !
Your professional moving specialists with 9+ years of experience.
We are servicing the greater Atlanta area as well as surrounding counties and beyond!
ABOUT US
---
The owner, Tim, is originally from Tennessee and started working in the industry several years ago. After learning and loving the trade, he decided to step into entrepreneurship in 2017. Moving is no simple feat. If you would like to start the next chapter of your life on the right foot, hire a qualified and affordable moving company to assist you. At MAGIC Movers ATL, we understand the unneeded backaches and the frustrations that come with relocating your belongings from one address to the next. Our skilled, responsive and professional movers will ensure your belongings are safely packed and transported to your new home or office. With more than seven years of experience, our registered and insured moving company will focus on your needs and making your move happen within auspicious timing.
When searching mover services near me, choose MAGIC Movers ATL out of Norcross, GA. Our team of local movers in Atlanta, greater Metro-Atlanta and surrounding areas, is dedicated to delivering outstanding customer service and a smooth and stress-free move for everyone. We ensure your personal possessions are shuttled to your new home with care. Eliminate the nuisance and stress that come with relocating. Our expert packers and movers will box up and wrap up your materials, office furniture, mattresses and clothes. When searching moving companies near me, steer clear from expensive amateurs. Choose us instead.
If you would like a free estimate regarding your upcoming move, call MAGIC Movers ATL at 470-899-0189. We would love to hear about your move so that we can tend to it accordingly!
We are dedicated to providing superior customer experiences!
---
Since 2017, MAGIC Movers ATL has been providing professional moving services throughout greater Atlanta & it's surrounding areas. We pride ourselves in getting the job done right and in an efficient, timely manner. Our crew is friendly and professional- we do not accept any less than that! Customer service and satisfaction at all times is our highest priority! Relocating is stressful enough! Our goals is to take the moving stress away from you-- let us do the magic for you and wow you with our expertise and work ethic! MAGIC Movers ATL is here to help every step of the way. We are a fully licensed and insured.
We specialize in local, residential and commercial relocation. We also offer long distance moving-direct, door to door service!
No long waiting periods, never a load with other customers belong along the way-we strictly focus on your and your belongings on the long distance haul!
You can also book us to pack, box up, crate and/or load your belongings on your own truck, into a POD or storage unit.
We also come out to assist you in unloading or unpacking services only! We are here to assist!
FREE assembling and disassembling for common furniture, such as beds, couches, tables etc. is included.
FREE shrink wrap, tape and blankets to protect your belongings from weather, scratches and breakage!
&nbsp 5% discount for Veterans
&nbsp 5% discount for active and retired Military members
&nbsp 5% discount for Senior Citizens
&nbsp 5% discount for College Students
Only one discount at a time
** valid ID's required for discount ** on hourly rate for local moves only**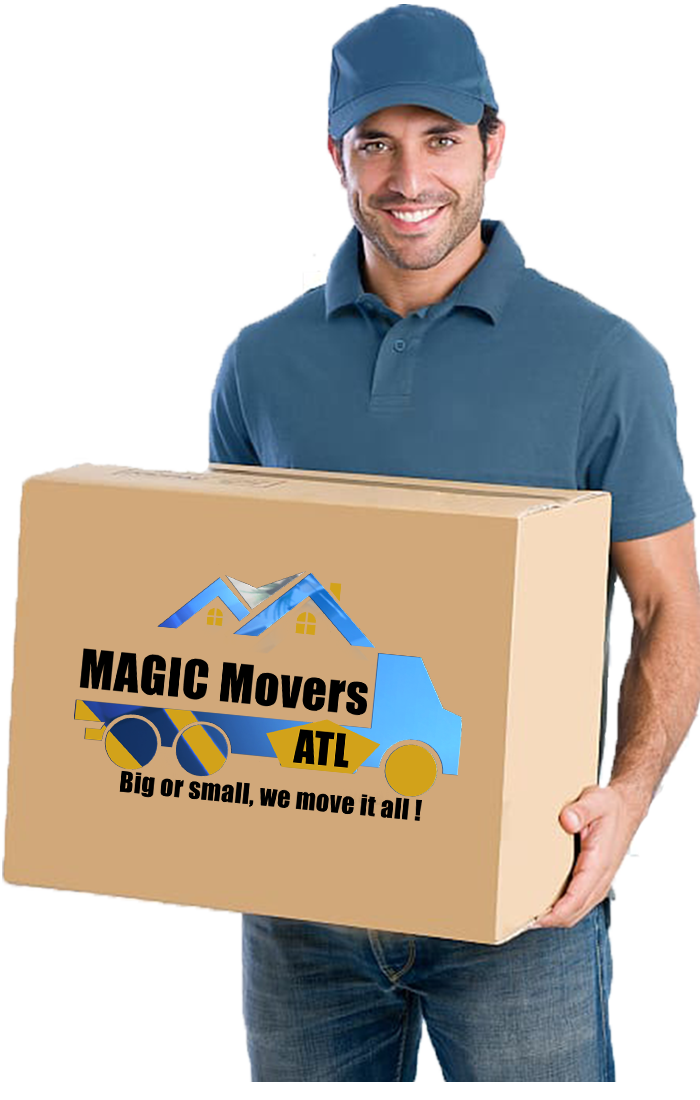 OUR WORK PROCESS
Its this founding principle that has helped our organisation as well as our clients become a defining force in the industry.
Booking a moving day requires $75 DEPOSIT: $5* are non-refundable & $70* will be credited towards your final invoice!
&nbsp &nbsp Address
&nbsp &nbsp &nbsp Norcross, GA 30071
Our Services
Servicing Areas
Your Payment Options
Accepted method of payment: CASH and any debit/credit card payment is subject to a 5% processing fee on final amount due
&copy Copyright 2022 MAGIC Movers ATL &nbsp &nbsp &nbsp Powered by EZ Web Solution